Product catalogue for the competitive market
Flexible product catalogue easily created and managed by your product specialist. Our solution enables to create new products and product variants on your own and even create product bundles from existing products.
Other product catalogue features:
Energy products for large customers (wholesale):

Internal billing engine
External Billing Sources
Manual Billing – guided

Set individual prices or discounts to customers.
Create and bill sales effects (ToP, cumulative discounts) on a level higher than PoD.
Use different prices for different daytime (TOU billing, for AMI).
Piloting new products without extra IT-costs.

Mark new products or product variants as "piloted" in product catalogue
Determine effectiveness of two variants of the same product (A / B testing)
Successful pilots quickly converted to full-scale products in product catalogue.
Unsuccessful pilots easily closed in product catalogue but left in billing systems
Product and campaign analyzing and reporting for fast and qualified decisions on pilots
Convergent billing and invoicing
Empirica Stream Convergent Billing and Invoicing System is a high capacity billing data management system enabling:
Flexible management of billing sources
Multiple billing sources, external bills or external rating systems
Multiple commodities and services
Flexible management of billing sources:

Item is billed internally – product catalogue
Item is billed externally and included to invoice
Item is billed internally or externally – decided in runtime according to current status of customer, installation and data exchange
Invoice grouping
Our solution supports any combination and even change of invoice grouping without customization.
Real time data
AMI (Smart Metering)
As smart meters are available for more and more customers, you can use Empirica Stream in order to:
Create and use dynamic billing products (TOU)
Create bill estimates on a daily basis
Use real-time (event based) billing
Implement pre-payment models through a centralized model
Give (mandatory) periodical consumption feedback digitally or in printed form
Bill customers with solar panels and wind energy production
Interfacing to the digital experience of the customers on local energy production
Real time billing
Empirica Stream allows you to create bills immediately, as soon as inputs are available and also traditionally, as batch cycle billing. Real time billing enables:
Better load distribution for machine time as well as workforce management
Create intermediate bill estimates and improve:

Forecasts – trading, closing operations
Customer engagement – customers can check consumption as well as intermediate bill

Create warnings on overconsumption in the digital experience of the customers in the pre-pay scenario
Create feedback on consumption in relation to the billing plan to the customers and trigger the update billing plan functions (digitally).
SEPROM (Energy Data Management)
Its objective is to store and manage energy data, and provide these data for billing engine. SEPROM component enables to:
Store energy data provided by DSO, Meter company and from smart metering devices.
Allocate consumption using non-linear weighting keys
Execute energy conversions (specific for gas billing based on altitude, temperature, caloric value, etc.)
The design of SEPROM component makes it flexible to handle changes in legislation, or country specific requirements for energy management. Energy profile for every PoD contains multiple curves. These curves are customized, as well as formulas that trigger curves calculation. Variables used in formulas can be stored at multiple levels – customer, PoD, DSO entity, regional structures, etc.
Process driven market communication
BPM (Business Process Management)
We use the Empirica Stream BPM engine along with the data exchange component (MCT) to manage the market communication as well as all the other processes inside the utility company.
Modify delivered processes and create new ones using predefined Java interfaces, user tasks or script tasks and delivered Web Services.
Business Process Management Engine enables design of company processes using BPMN notation and manage these processes in a workflow manner. Central point of BPME is User Tasklist that is accessible directly from the Workplace.
It is possible to change existing processes or create new processes via visual process editor (any tool supporting BPMN 2.0). Than you can use existing process tasks or implement your own process tasks using Empirica Stream API.
From the most complex (e.g., customer switch) to the simplest ones, all processes are designed as BPMN 2.0 diagrams and are loaded into the system. BPM engine manages execution of the process tasks and using ESB enables components outside Empirica Stream to be integrated into the system.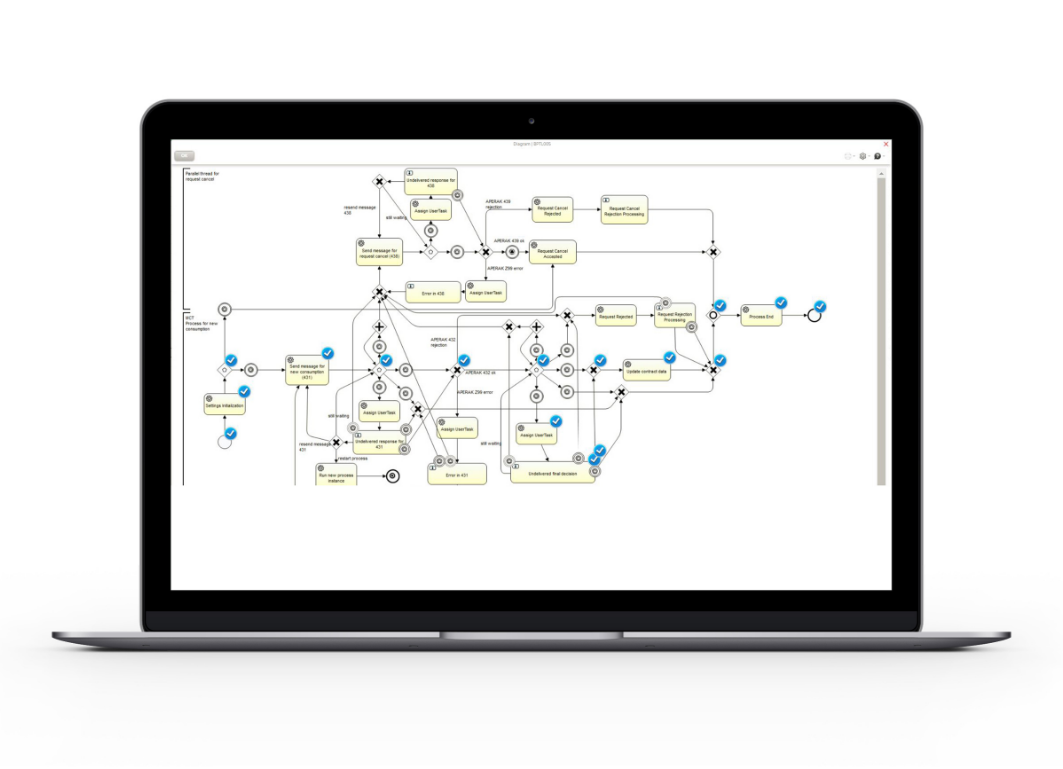 MCT (Market Communication Tool)
MCT component handles market communication based on EDIFACT standard (messages UTILMD, MSCONS, INVOIC, etc.). Together with BPM component fully covers data exchange with DSOs and other energy market participants. Customization and configuration enables to adapt to country specific requirements.
Mass processing
Mass processing techniques are built into Empirica basis components and used widely in billing, invoicing and receivables management. Using visual tools, admins can schedule multithread jobs, create job chains and maintain restricted job concurrence.
Empirica core is ready to handle hundreds of concurrent internal users, as well as millions of external requests per day.