Insurance provider
Penta is a Central European private equity group with strategic interests in healthcare, financial services, retail, manufacturing, media and real estate. Dôvera – a Penta company since 2002 - is the largest privately held health insurance in Slovakia with 1.2 million insured.
"We want to maximize customer engagement. Therefore we have built our award-winning online services such as Electronic branch or Safe medicines and mobile app for our clients. We build these services on Empirica platform. Empirica core is our robust engine for processing more than a million business partners. Moreover, openness and flexibility is built into Empirica DNA. Hundreds of ready-to- use Empirica services, automation capabilities and real-time data processing enable us to design an industry-leading customer experience."
Martin Kultan, CEO
Empirica Stream open and robust backend
Between 16th April and 15th May 2017 there was an official monitoring of our Core backend
system in health insurance company Dôvera. We have measured:
Number of user dialog requests - each request is recorded as a screen data "snapshot".
Average number of these snapshots is 480.000 per workday.
Number of requests served using backend APIs, which are published to ESB – average
number of requests is 1.100.000 per workday.
Number of external API calls processed by Empirica (per day)
External systems calling Empirica APIs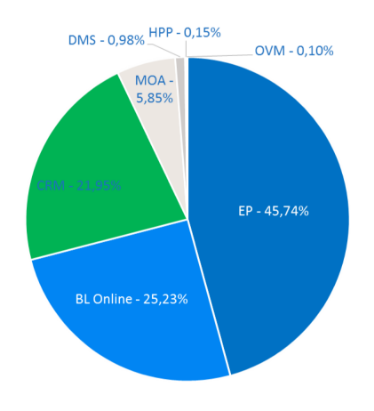 Clients
EP – customer internet portal
BL Online – information systems of hospitals
CRM – internal CRM system
MOA – mobile app for customers
DMS – internal document management system
HPP online – enhancement for customer's ERP systems
OVM – public authorities communication